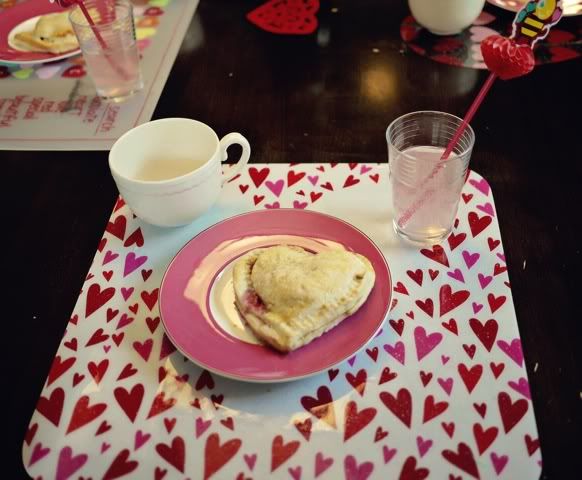 **Target is dangerous. I saw a heart shaped miniature pie-press,and wham-o! How could I not have a Valentine's tea party for Tiny and a couple of her friends?**

Among the many things that can interrupt the mojo of an afternoon of patient care, are fire alarms.
Yep, fire alarms.
Take this week, for example. My patient was all set up for her IUD placement, and my nurse and I were at the ready. I sat down to begin, when I heard a strange buzzing.
"What's that sound?" I asked my nurse.
"I'm not sure--should I check?"
"Yes, just in case it's a fire alarm."
**I think Rockstar's alarm bells go off everytime I walk by the dollar bins. Because suddenly I'm in a haze of, 'it's pink and miniature and ONLY A DOLLAR!' Seriously, though, thanks for the cute straws and party bags, Target.**

Well, whaddya know, it was! My patient was gracious about her sudden, albeit temporary, reprieve from the scheduled procedure. My nurse and I waited outside for her to get dressed. Several people passed us while we waited, and advised us to get a move on. We advised them that it seemed in poor taste to leave without our customer.
We walked out into the (mercifully mild) weather, and observed an enormous group of people--staff, doctors, nurses, patient's--standing together in the parking lot. Commenting on the cold, checking smart phones, wondering if this was 'real'.
I wondered how I was going to come back from what ultimately ended up being an almost 40 minute evacuation (!!!).
Miraculously, things went incredibly smooth once we got back into our office. Patients were understanding, visits were fairly straightforward, and a normal departure time looked not at all unlikely.
My last patient was a nice woman who I've been taking care of for a while. In the course of our conversation, she mentioned some chest pain that she'd had recently. She seemed almost embarrassed to bring it up. "I know I shouldn't even say that word in a doctor's office," she said.
**Say the word 'jewlerybox' to four little girls, and you've suddenly got their undivided attention! Again, thank you to the dollar bins.**

After discussing it, I knew we needed to do an EKG. Since we were down in a satellite office that afternoon, it would take the nurse some additional time to get the machine brought over and set-up. I mentioned to the patient that I wanted to proceed with doing the EKG and she said, 'But you guys have families that you need to get home to! Are you sure?'
I laughed it off and said, "I promise you that I don't base my clinical decision making on what time I want to leave the office.
I left the room and waited for the EKG to be done, feeling grateful for my nurse. She didn't even bat an eye at the delay.
Here's the thing: I'm not going to lie and tell you that there was no passing disappointment when I realized that my family would be waiting an extra half hour for my arrival home.
But the weight and joy of this white coat is that when it's on, it's just
really not about me
.
And that is the thing that ultimately keeps me going. Because when it's the right cause, giving more of yourself than you sometimes want to give means pushing through to something better. It means fighting fatigue and being flexible to land in that place of satisfied exhaustion that fills you up and lets you know that maybe your efforts are adding up to something bigger after all.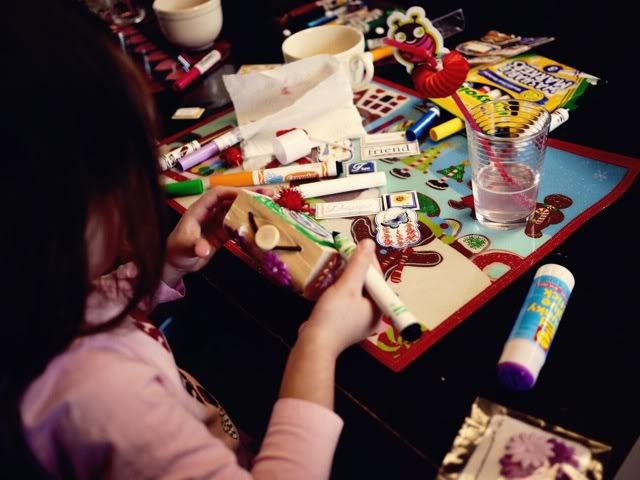 **My girl loves nothing better than to take pieces of this, and bits of that, and turn it into something bigger. In fact, I think she could do it all day long.**