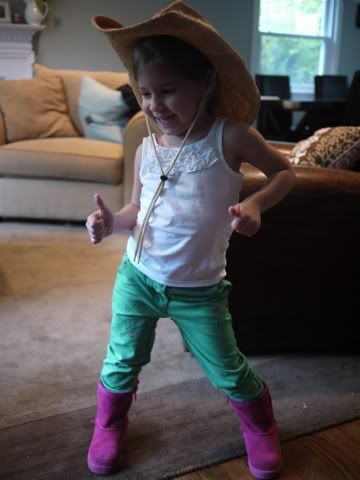 **I walked in the door from work and she was dressed like this. Bottle and sell this moment, please. Pure happy. Oh, and those boots? She avoided them all winter, but can't get enough of them now that it's 80 degrees outside.**
My Dad's side of the family had a reunion a few summer's ago. It was wonderful because I love my extended family to the moon and back and feel lucky to have them. I heard someone say recently that she thought sometimes God sent us to families with people we wouldn't have chosen to be in a family with, so we'd have to learn to get along with people unlike ourselves. That is surely many people's experience. It is not mine. I've long counted it an amazing blessing to have an extended family (on both sides) I couldn't have hand picked better. So, it's a joy to be together.
During the family talent show, we all sat crowded in my parents living room, sporting our white and orange reunion t-shirts, and laughing at the various acts (which may or may not have represented our truest talents).
Somewhere between a great showing of boy-band dancing and a rendition of 'jailbreak', I looked around the room and felt, for an instant, how much bigger my identity was than just me. 'I'm part of this', I thought. I'm part of these people, of these stories, of this history. And in that moment, I felt what it is to be a part of a chain, a part of a beautiful web, that extends backward and forward and sideways.
It felt like being put into context.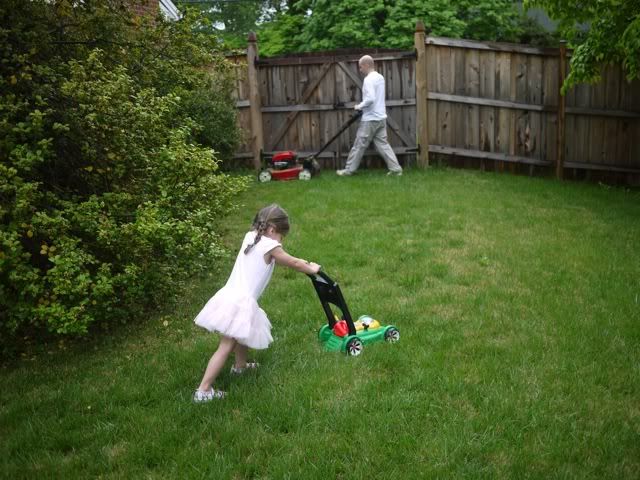 **Tiny, you are part of a lawn-mowing team. Daddy can't wait to share these responsibilities with you.**
And in the middle of a summer where I'd felt a little off-kilter, it was overwhelmingly powerful.
Do you ever have moments like that? Where you suddenly see yourself snapped into the puzzle, and you get a different view of your inner workings because of the things or people who surround you?
**You two are part of a team. I hope you'll feel that.**
And even if I had the type of family that left me wondering how or why we had ended up together, I think that idea would still hold true. It wasn't just a sense of how much I loved them, but a sense of how much my story is wrapped up in the story of others, and what I owe to those people in the way I live my life.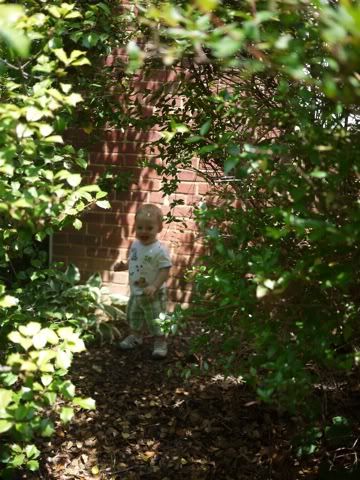 **I looked up today and couldn't see Drummer. He'd found his way back behind the bushes and he thought it was pretty hysterical.**
**Tiny, rocking her awesome tie-dyed pants, worried he'd walk into the sharp holly bush on his way out, so volunteered to go retrieve him.**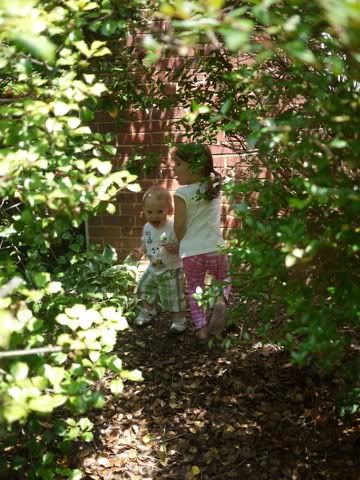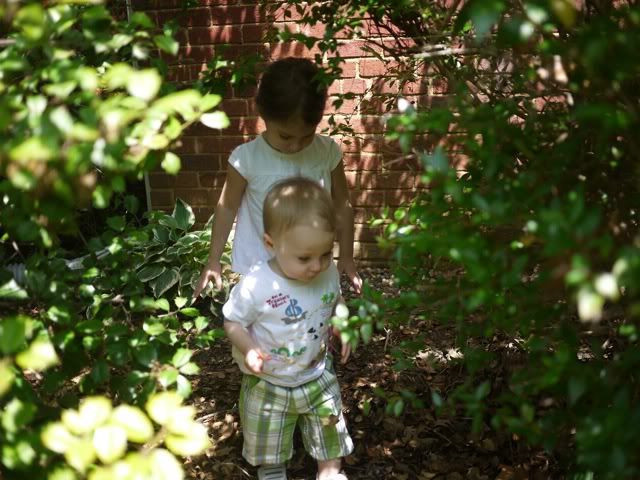 **Making their way back. I love to observe their evolving relationship. He's old enough to make it a two way street.**
Sometimes I glimpse that web of connection around me, and then other times I suddenly feel the roots below. Usually I feel that in relation to my faith. I'm going along, living my life, and then I'm confronted with a fork in the road. And one of those paths might be to go in a way that wouldn't honor what I think my faith would dictate. When I contemplate whether I could honestly take said path, I suddenly sense how deep my roots are: the depth of what I know that has developed over time. And in that moment, I know I can't be swayed by momentary ease or passing fancies. I am rooted in a long developed sense of truth and it centers me.
I'm grateful for the times I am made aware of the brush strokes in and around my self-portrait that give me color, strength and direction.
I am grateful for being put into context.
****************************************
I'm also grateful for the two little people who call me 'mama' and help me sense more often the web and the roots.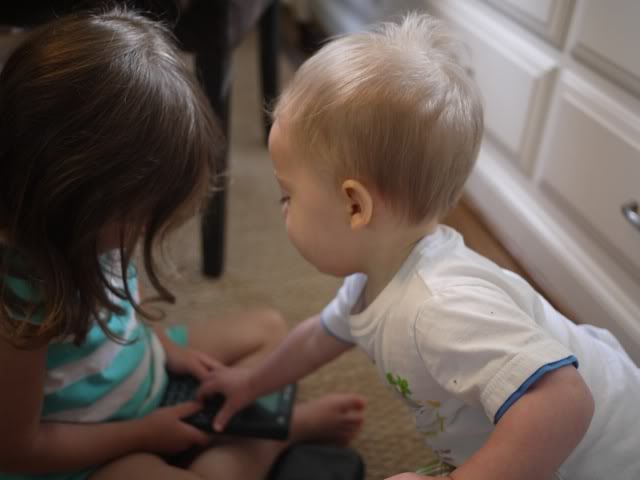 **A 'two way street' means he's old enough to want whatever she has.**
**Which makes her old enough to tell him to try again later.**
**In a move of 'two can play this game', he attempts to point out something better she could play with.**
**Second in line for the lawn-mowing throne, and showing great potential...**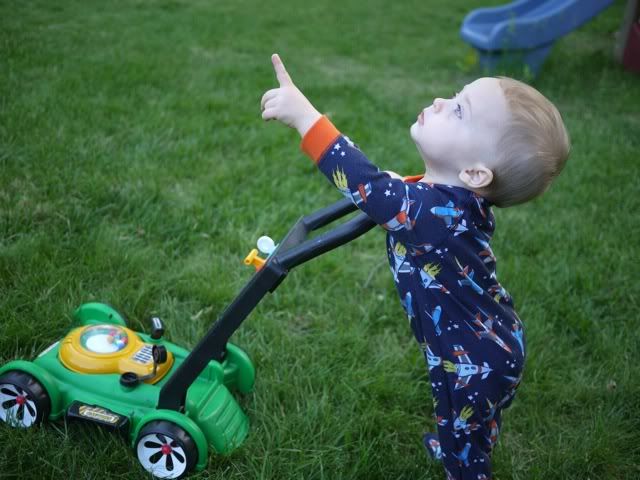 **A little distractable, but so cute!**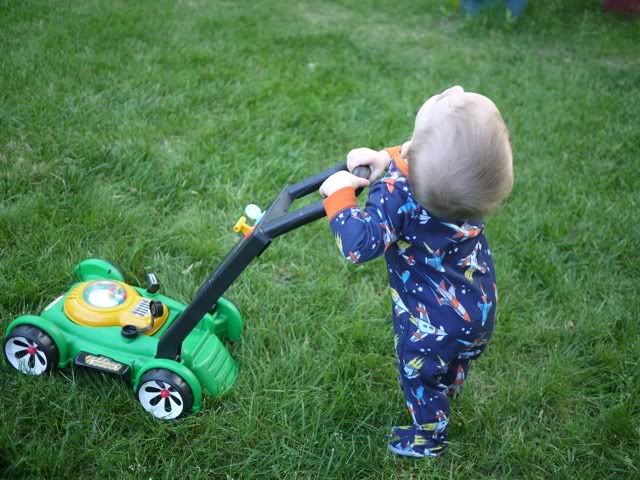 **I wish I knew what had caught his attention--I spied nothing obvious overhead.**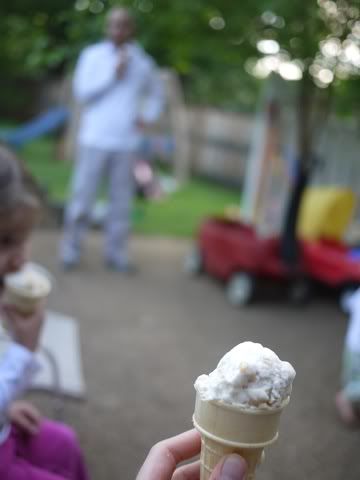 **Ice Cream fits perfectly in the context of summer, no?**
I'm grateful for a lot of things.
And before I say goodnight, I leave you with this. I was so sad when Azalea season was over.
But, suddenly: New Blossoms.
Sweet Dreams.
**Thank you for your comments on my last post. Your experiences and support always inspire me and cause me to think.**