*
*Tiny was disappointed when after loading up the car to go in the morning, we learned we'd have to wait until the evening to attend a pirate adventure program at the beach. But she worked it out, and was super excited when the time actually came to go get all 'pirated' up.**
During my Junior year of college, I spent a lot of time preparing to take the MCAT (the dreaded medical school admissions test). It felt like torture to finish my regular coursework, then spend my free time attending review courses. Every Saturday was spent taking 8 hour practice tests. Every evening was filled with practice questions. So when I finished the test in the spring, I don't think I'd ever been quite so glad to see something come to an end. I had nightmares about it for months afterward.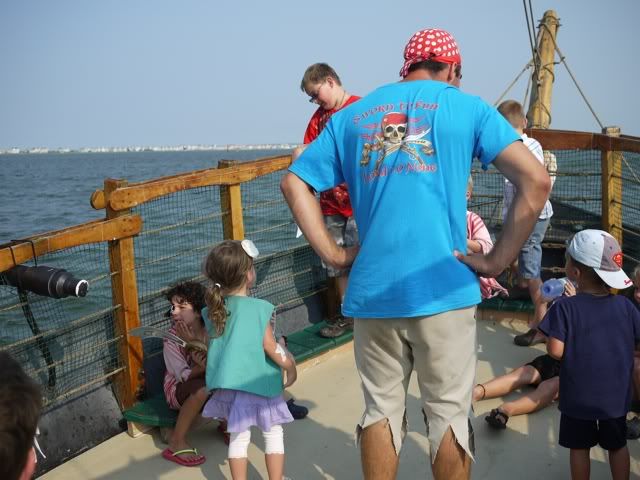 **Learning pirate language and hearing about new pirate threats to have nightmares about.**
And then 4 weeks after the exam, I got my score. It was a good score. It would've probably gotten me into the same medical schools I ended up getting into. But you know what? It didn't match my high expectations for myself, and I was
devastated
.
Devastated
. It felt like all my work had been in vain, because surely if I didn't get the score I had hoped for, nothing was going to work out after all.
**Pinky promising to keep the pirate code.**
I called my mother, sobbing in the 'my world has just come to a screeching halt' sort of way. I'd been supposed to stay up at school for the summer, but I remember sobbing over and over, "I just want to come home. I want to come home!" I couldn't face it--the possibility of retaking this exam. I just wanted sit with my mom on our couch in CA and have her tell me it was going to be fine, and that she'd take care of me while I got through this rough patch. But you know what? That's not what she did.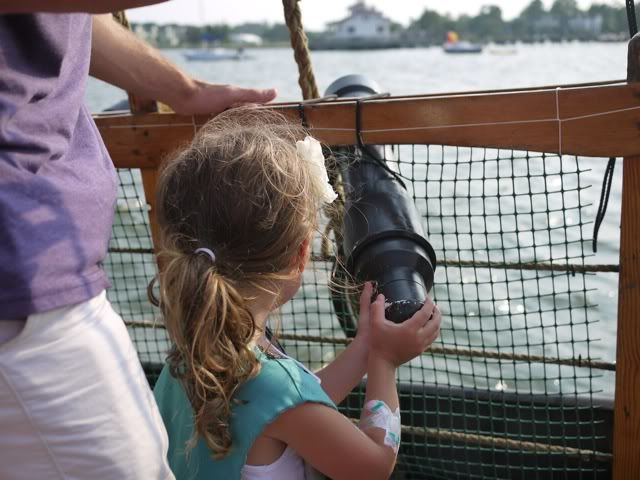 **I'd have liked a water cannon at the time to take my frustration out on the world.**

"You can't come home, sweetie. Do you think you need to retake the test?"
"Probably. But Mom, I just can't do it. I want to come home!" More tears.
"Well, you can't come home. You need to stay up there and figure out how to deal with the next step in this situation."
**Not that we don't ever need a helping hand. Uncle B lends Tiny his cannon expertise.**
My mom is totally loving, but she does not coddle. It's not like I'd actually expected her to let me come home. She'd always expected me to push forward and come up with solutions. She knew I was capable. So you know what I did? I dried my tears, picked myself up, and registered for the exam again. I stayed up at school and I studied. Luckily, one of my brilliant best friends was going through the exact same thing, and had also decided to retake it. So, we studied together. And I learned more about persisting in things that are uncomfortable, but are necessary.
**Pirate Pete got a little taste of uncomfortable when the water cannons knocked him off his raft and into the ocean.**
At the end of those two months, when I'd persevered in doing something that felt akin to torture, I flew home to Cali to take the actual exam.
Again
.
The relief I felt when my dad picked me up from UC Berkeley at the end of that day was immense.
**Her smile gives it away: it was worth the wait.**

And what's more: The joy I felt when I got my rockin' second score in the mail? Now that's a feeling that can only be earned through blood, sweat and tears.
**Like finding the treasure at the end of a pirate adventure.**
My mom used to say that she knew her role as a mother was to 'work herself out of a job'. Meaning, if she was doing things right, she was preparing us to be able to live life without her. I take care of a lot of parent/kid duos in my practice, and I see less and less of this. I see parents as involved in managing their 20-something year old's life as they probably were when the kid was 14.
Something is wrong with this, and this article I saw on
CJane
helped me to understand what.
"How to Land Your Kid in Therapy."
My parents let me experience disappointment, helped me discover my own problem solving skills, and encouraged me to keep at something even when it was hard. Reading this article made me so grateful for that all over again. And made me hope that I can accomplish that with my kiddos.
It will be tempting to want to rescue our kids when they run up against the disappointments and unpleasantries of life, and come to us sobbing. But I hope I can be strong and rescue them the way my mom did: by letting them rescue themselves.