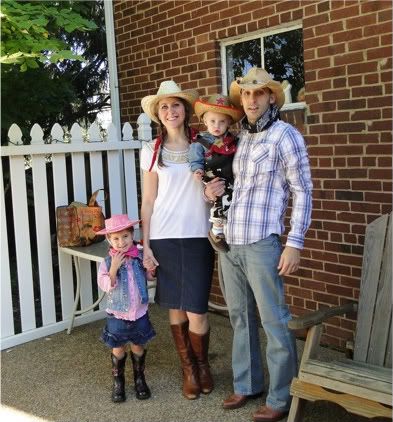 **Pony on up, friends, and let the festivities begin.**
On the morning before Tiny's birthday, I laid down next to her in bed. "Today's the last day you're going to be 3," I said, "so let's make it a good day. Let's make it count."
She smiled at me like she understood what I was getting at. She got up and ran downstairs, while I lay there, my breath caught in my throat. 'This is the last day she's going to be 3,' I thought.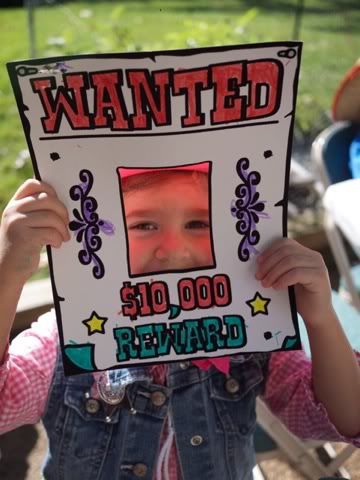 **Wanted: The Power to Freeze Time.**
But it wasn't just the nostalgia over the fact that the toddler I so adore is always, always, always evolving into a little girl I love just as much. It was more a remembrance of the concept that 'you won't pass this way again.' That everyday is unique and then it's gone, and I hope I'm appreciating that today is the only day that will ever be just.like.this. Of course there are do-overs and second chances and I've always loved the Anne of Green Gables Quote "tomorrow is a new day with no mistakes in it."
But I also want to retain a little bit of awe as I think to myself in the mornings, "Make it good, self. You won't pass this way again."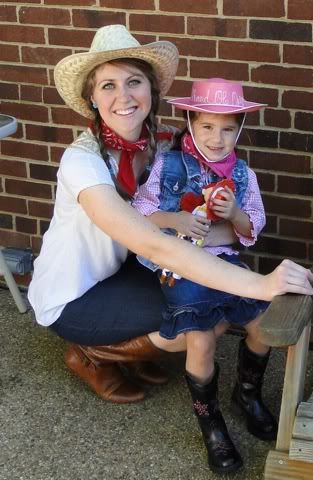 **Which is why Rockstar and I dressed up as well.**
********************************************************
Speaking of not passing this way again, it occurred to me while planning Tiny's birthday that this was probably the LAST time we'd ever do a cowgirl party. And a cowgirl party and a pony ride just go together perfectly, right? When I get a bee in my bonnet, well....I just have to follow through. So, while my husband rolled his eyes at my enthusiasm for the idea, I researched and finally found a pony rental from a local farm.
What can I say. Lots of times, I'm saying, "Keep it simple, people!" And then sometimes I'm unexpectedly acting on, 'Go big or go home!' impulses.
There's this part of me that always wished I could be an event planner. So I looked at that part of myself and said, "You're hired. Go crazy." And she had
a blast
. More importantly, so did those cute little cowgirls and cowboys.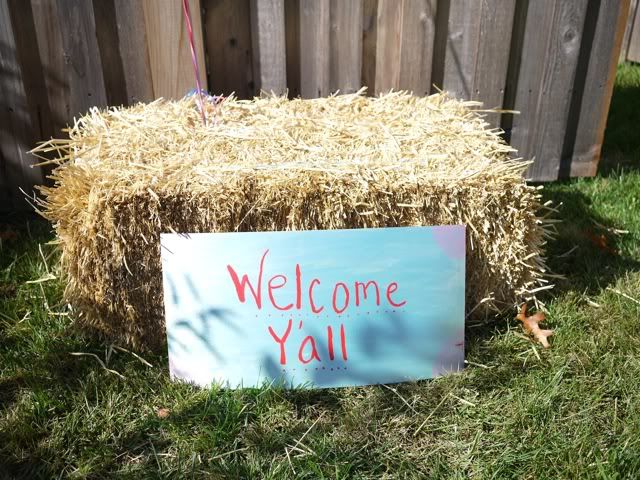 **Our guests let themselves into the ranch.**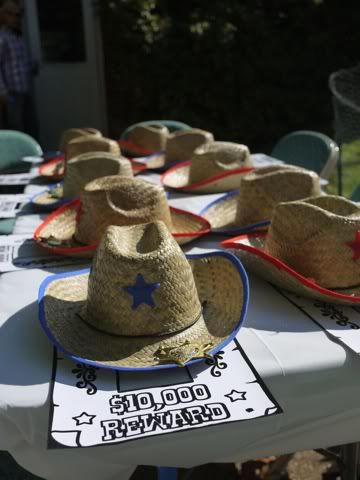 **We outfitted the girls with badges and hats upon arrival, then had them color their own Wanted posters (mwahahaha).**
**The birthday girl with her new Jessie Doll.*
*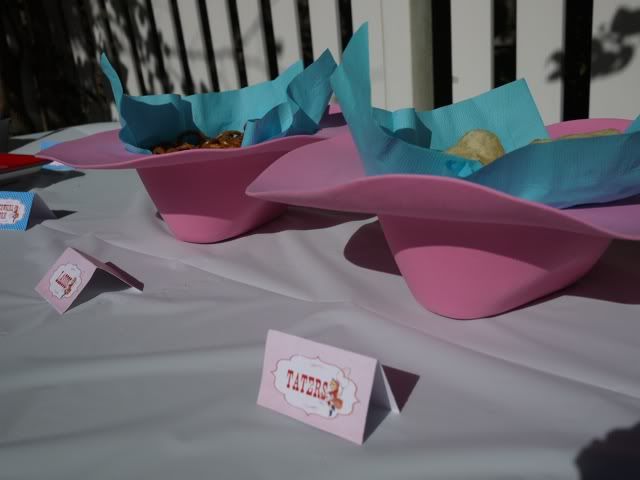 **Dollar store cowboy hats have a myriad of uses.**
**The Party Favors. When the cowboot cookies I'd ordered didn't materialize, I made little sherriff star cookies. Thank you ready made dough!**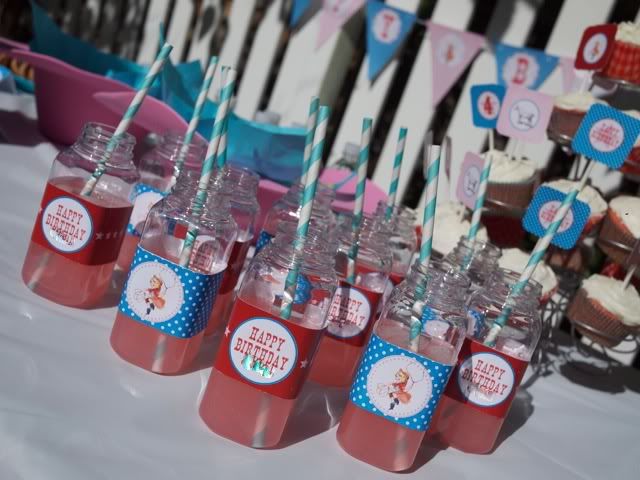 **Pink Lemonade for the weary riders who needed to wet their whistle.**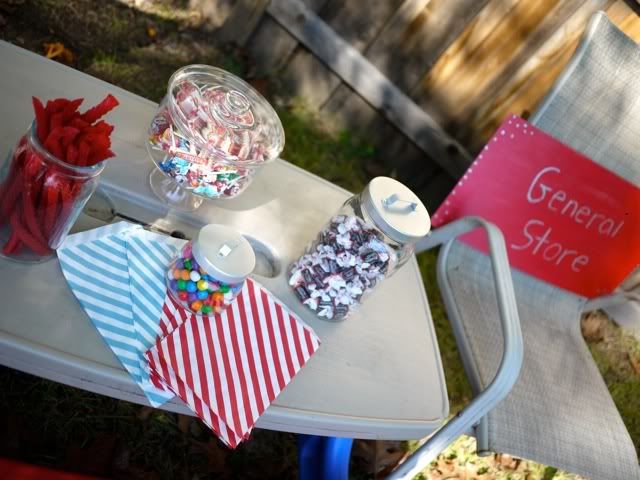 **Need a place to spend those tickets? Step on up!**
**Girlfriend took full of advantage of the times the store wasn't manned by this guy...**
**...or this guy.**
**He rocked his 'stache all party long.**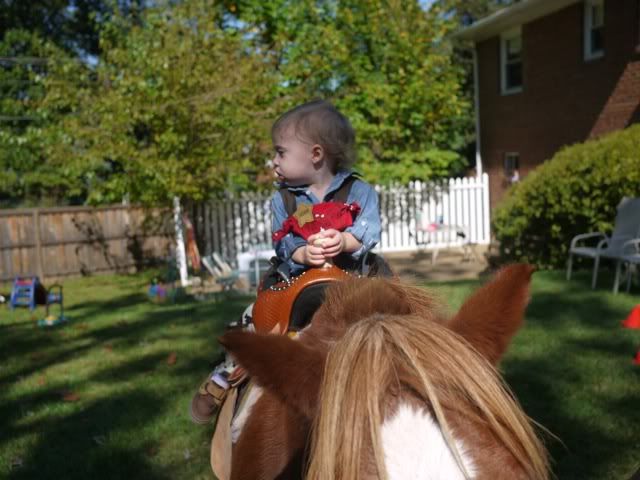 **The locals got a little nervous when the Sheriff came riding into town.**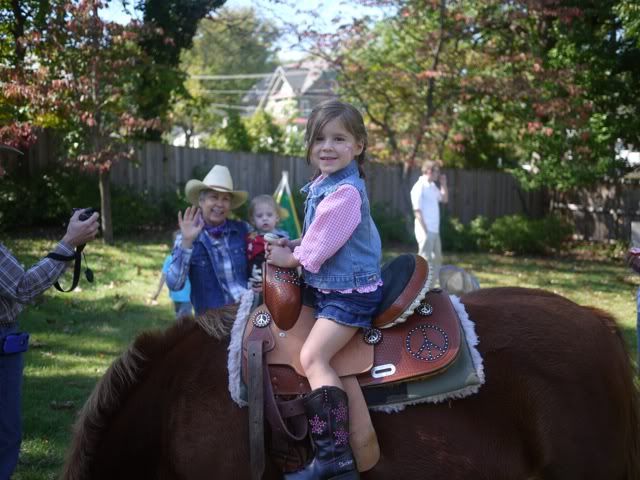 **But the birthday girl told them there was nothing to fear.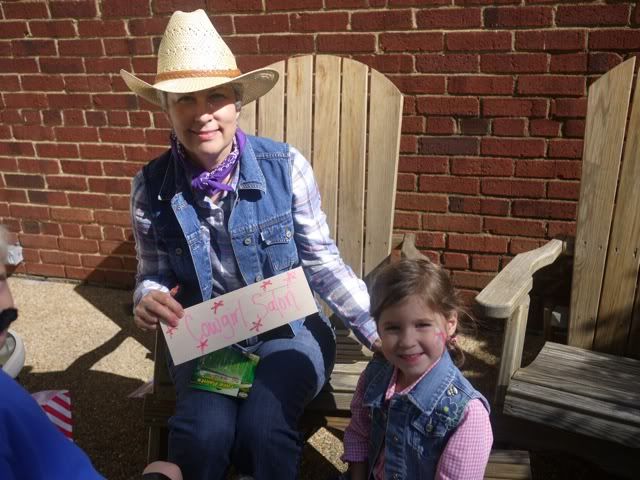 **My MIL manned the Cowgirl Salon, aka face painting central.**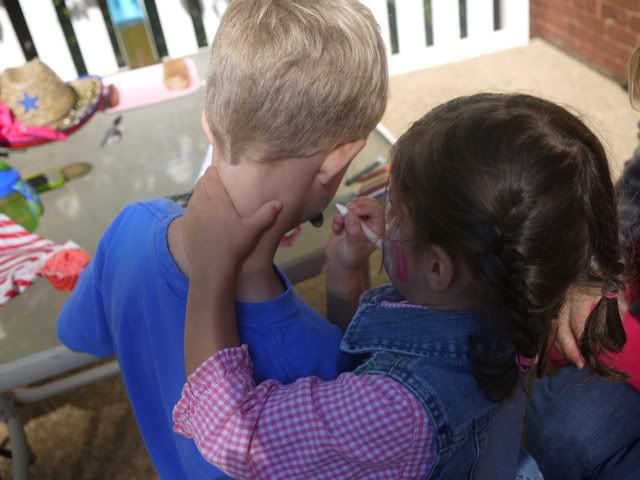 **Even tiny got hired for a brief stint at the salon.**
**Our cowgirls were experts at finding the gold among the rubble. More tickets earned!*
*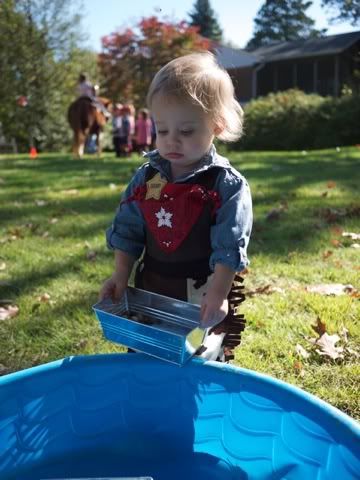 **The Sheriff was less adept at finding gold, and more adept at splashing water.**
**And also skilled at cattle rustling.**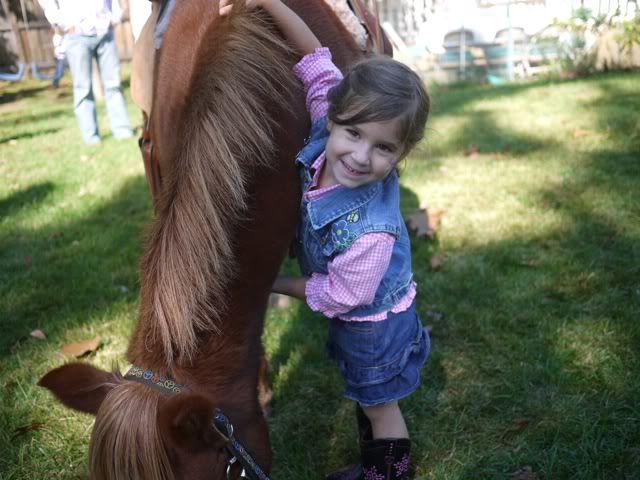 **Good times were had by all. And a little nostalgia as I felt a pang for a life with horses (we had them growing up).**
**A sigh of relief from two happy parents: no one got sick and it didn't rain.**
There's this one cowboy phrase that goes something like this: "Don't stop kickin' until the clock stops tickin'." Whether in celebrating milestones, or in just appreciating each simple day, I reckon that's just what we'll do.