**Face painting, round 1000? Seriously, nothing puts a smile on her face faster. Oh, and the bow situation? Her doing.**

After heading home from a morning of patient care and picking up Tiny from preschool, I sat down on the couch while the kids were napping. I sighed a tired sigh, because this is one of the busiest weeks on record for us, and did what I usually do when I'm tired or frustrated: I called my sister.
We were talking about the goings on of the past few days when I noticed my cell phone ringing. It was my office number.
"Hey hang on a second, someone from work is calling me."
**One thing that does not make me tired or frustrated is a good fall festival. We headed to yet another one this past weekend. Can't. Get. Enough.**

I picked up the phone and heard the voice of one of our third year residents. A few days ago he'd asked me if I could by any chance help with out for a Q&A meeting they were having for the residents tonight. I'd told him that with committments on pretty much every other night, it wasn't a great week. Plus, I wasn't working the afternoon shift, so it would mean fighting rush hour traffic to get back. Still, I told him to call me if he got in a bind.
And he was calling me.
Great
.
A heavy dose of guilt is a just part of my personality, and so once I've been asked to do something, even if I have a good reason for saying no, it still makes me feel bad. My sister is always telling me to let go of the guilt and 'just say no' when I need to.
**The kids never say no to bounce house fun. In fact, they said 'yes' about three dozen times.**

The resident said, "Hey, I know it's a crazy week for you, but is there anyway you could help us out with the Q&A?"
I asked how many people they had coming, and felt confident they had enough help to pull it off without me.
Then I thought about how my Dad had always put family ahead of his church and work responsibilities. I thought about how when he chose our back to school nights over meetings he was supposed to conduct, he probably felt a little guilty. But he chose us anyway.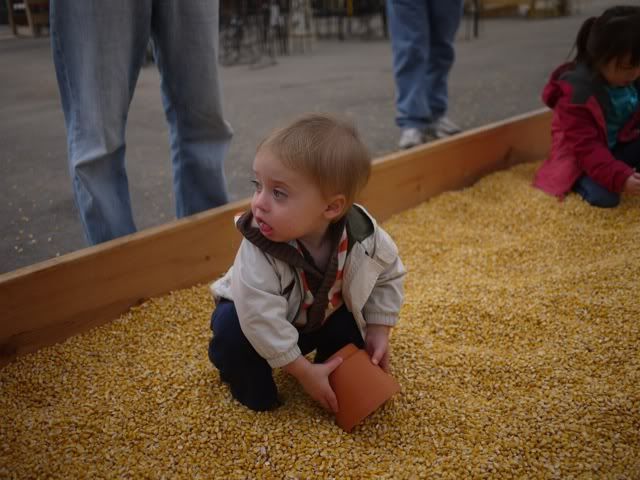 **Drummer chose the corn box over pretty much every other activity. Do you know how much less messy this is than sand? Why is this not a thing??**

I thought about how choosing space for our family is generally not the path of least resistance.
I thought about how with my plate so full this week, my family just needed a quiet night together.
I thought about my sister on the line and what I knew she was rooting for me to say.
"I'm sorry, don't hate me, but I just don't think it's going to work."
**This painted pumpkin works beautifully on our front porch.**

"No problem, I understand" he said. And we hung up.
I picked the house phone back up, where my sister had been listening to my side of the conversation. "I'm proud of you," she said. Just as I'd known she would. Then we jumped back into our previous conversation.
It was a good night, albeit a little crazy with two toddlers who had slight cases of the grumpity grumps. Whenb Tiny asked 'if I was going anywhere tonight?' I smiled as I answered: 'Nope, I'll be here all night.'
I put them in bed, knowing I was exactly where I should be.
And now I'm heading to bed myself, grateful for the people who help me make the right decisions as I go, and for more reminders that little choices add up to big ones.
That saying no to one thing is usually saying yes to something else. And when we repeatedly say yes to the right things or people at the right times (which is not so simple to sort out!), we're laying the foundation for great things and great relationships.
That I believe. I really do.