In the heat of summer after my sophomore year in college, my family trekked eastward to Boston for my dad's college reunion. Since the parents had a lot of obligations that kids wouldn't be interested in, there was also a group of Harvard college kids who would take the various age groups around to different activities. I thought it was pretty fun to hang out with co-eds from a different university, and enjoyed our trips to the beach, to Salem, etc.,
Except on Saturday morning, I was really stumped about what to do. Because the co-eds were leading a group on a riverboat tour, but my parents had lined up an equally interesting city tour that I could come on. Everytime I'd decide to go with one option, the other option would suddenly look just as—if not more—appealing. Flip. Flop. Flip. Flop. It was not the first time I had struggled with indecision in my life.
**Are you sure about that, Mom?**
The hour of decision grew near, and my dad offered to walk me down to the pick up spot for the riverboat tour while I made up my mind. We got there and I was still unsure. All the kids got on the bus, and I was still unsure. They made a 'last call' announcement, and I was still unsure.
"Sweetie," said my Dad, "You need to make a decision. Don't let the bus leaving make your decision for you. Decide what you want instead of letting circumstance decide."
**I generally miss the bus when it comes to getting my camera while the photo-op is still intact.**
He was right. With the opportunity to get on the bus still there (barely), I said, "I want to go on the city tour with you guys."
"Okay, then." We turned around and walked back to meet up with my mom and brothers.
I've thought a lot about this advice since then, because I think it's some of the best advice I've ever been given.
Lately I've been contemplating the idea of being intentional in the way I live my life. Of making decisions when I have the ability to instead of passively waiting for life to make them for me. Of being mindful of the bigger picture as I make smaller decisions. Of acting instead of being acted upon.
**This weekend I decided to spend the afternoon putting candy on this spooky house. If you know me, you know this is only one of three gingerbread extravaganzas's that I'm a part of yearly.**
It can be easy to wait for the bus to pull away because then the responsibility for the decision is gone. But to make that decision when the opportunity is there feels like an important part of developing the ability to forge your own path. To forge the right path even when it's hard.
So lately, I'm trying to be more active in making the decisions that are mine to make.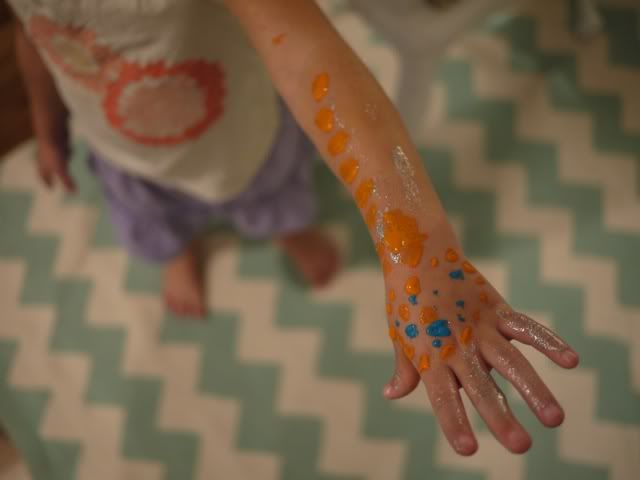 **Tiny's all about making decisions that aren't hers to make. Like body art when mom's not looking. Actually, I was kind of impressed with her efforts.**
For example: Tiny was at a morning camp recently, and after I put Drummer down for a nap, I surveyed my options for the next two hours. I didn't want to just sit down and start sorting through mail, news headlines, interesting articles, etc., and realize many minutes later that my window of time had all but disappeared. So I made a list of the five good things I could do with that time. And when I surveyed the options, 'sleep' won out as the one that seemed the most beneficial at that time. So I layed down to take a nap, knowing I'd sleep even better because I'd decided to sleep before the bus pulled out of the station.
**Though I was tempted by a good book on my nightstand.**
Being intentional doesn't mean that you'll always choose to check something off the to-do list instead of having fun. Rather, it means paying attention to the precious gift of time that passes everyday. I want to see that gift and mold it, instead of letting it slip through my fingers.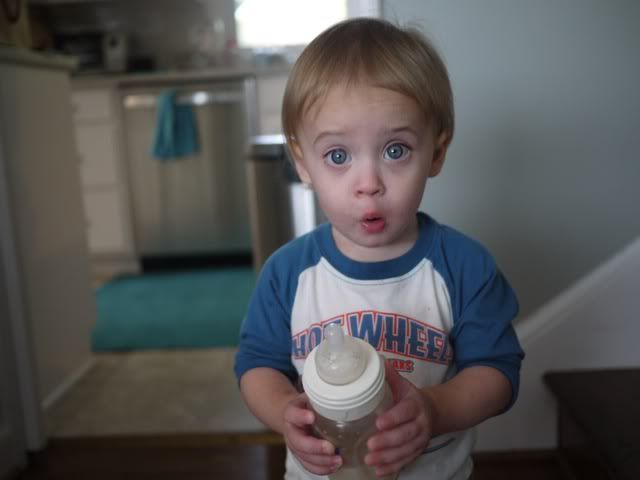 **And sometimes I might be surprised by the choices I make.**
Happy Wednesday—make the decision to do something fun. ☺