One of my good friends told me that one of the things she most appreciates about her pediatrician is that she makes her feel like she's doing a good job. "Every time I leave, I feel like she has affirmed me as a mom." I loved that. I wanted to give that gift to my patients. I hope I always have, but it's something I've been more conscious of since she said that. This last week I've had a bunch of families coming in for their kids' physicals. It's really so much fun. I love seeing the sibling interaction and talking to the moms about their concerns and their successes. Frequently I'll pick up some new parenting tip from the moms. I admire the families I take care of for so many reasons and I'm grateful to get to be part of their lives. And, hopefully, I communicate that so that they leave my office feeling like they are
capable
.
I have my own story to share sometime about what I appreciated as a patient, but I'd love to hear yours.
What does your doctor do that you appreciate?
**
This
is the recipe for the black bean burger that my friend Kyra sent:
"
THE BEST BLACK BEAN BURGERS!
what you need:
•1 1/2 cups cooked black beans (a 15 oz. can very well drained)
•1 14.5 oz can diced tomatoes (very well drained, and there is a typo in the magazine, it calls for a 4.5 oz can, but that is incorrect)
•1 cup fresh cilantro or parsley (we used cilantro)
•1 teaspoon ground cumin
•1 clove garlic
•2 green onions
•2/3 cup shredded carrots
•1 3/4 cup rolled oats
Put all these ingredients in the food processor and turned it on. It helps if you pre-chop the veggies, smash the garlic, and really drain the tomatoes. Use a big dough scoop to make 8 patties, and press them flat on the tray. Bake on parchment paper or a silpat at 400 degrees for 20 minutes, carefully turn them over and bake another 15 minutes. Eat right away or let cool and freeze.
Eat on a whole wheat bun with lettuce and a little chipotle sauce, which is chipotle puree mixed with either ketchup, sour cream, or mayonnaise."
My notes: I used the cilantro, which I thought was great. Chipotle puree eluded me, so I went with a sour cream/salsa mix and avocado slices as a topper. Delicious. Also, if you have a convection oven like me, you may only need to cook them for twenty minutes total. Enjoy!
*
That
is how we spent last weekend's rainy day. An extended tea party at my in-laws. Today was similar-- tea parties, extended naps, and a little spring cleaning.
*
This
is a new discovery--she'll eat hardboiled eggs! Hooray for the egg-dyeing that led to this discovery.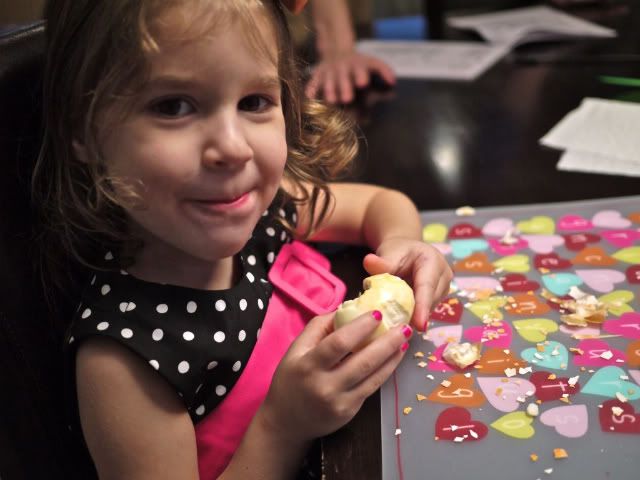 *
That
(pulling the CD's off the shelf) is one of his favorite activities. That and climbing things. Heaven help us.
*
This
is where we were a year ago. How was that seriously a whole year ago, and yet, how was Drummer not there? Know what I mean?
**image by the amazing Nancy**
*
That
is my little girl last Easter.
She has grown up so much. I love this holiday. I love all of its fun traditions--eggs, Easter Bunnies, and candy. Most of all, I love the chance to celebrate that
He is Risen.
Happy Easter Weekend!