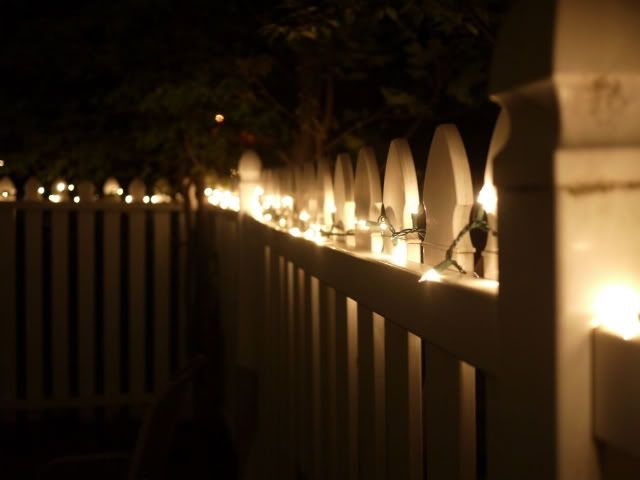 **
Twinkle lights! Rockstar knows if I am surrounded by twinkle lights, then I'm pretty close to my happy place. So he put them up around our patio. Is there anything cozier?
**
Do you get the Sunday night blues? I totally do. I feel like the transition from the weekend back into the workaday world should be slow and steady, but the blues come from the knowledge that it
will not be
slow and steady. The gun will sound (or, the alarm) and I'll be off on a race through a busy day.
It's always the justaposition from slow-paced to fast-paced that catches me off guard, I guess, and a Holiday weekend adds an extra dose of wistfulness to the equation.
It reminds me of when I was younger and my best friend and I would dare each other to go swimming in her unheated swimming pool. We'd stand there at the waters edge, simultaneously dreading the shock of cold water, and looking forward to the swim. Finally, we'd get the courage to jump in, and when we'd surface, there would be a sharp intake of breath as our bodies tried to adjust. But minutes would pass, body temperatures would change, and soon the initial trepidation would be forgotten in the fun of an afternoon swim.
Today felt just like that. I suppose it's a good thing that the passage of time gives us no choice but to jump into a new week. Because, while I can't say I enjoyed the cold water in my face this morning, once I was in my groove--a morning routine with my kids and then seeing my patients--I thought, "I'm definitely enjoying the swim."
A few reasons why this weekend was hard to say goodbye to:
**
A spontaneous BBQ when the rain clouds parted and we were suddenly left with a gorgeous evening. First corn on the cob!
**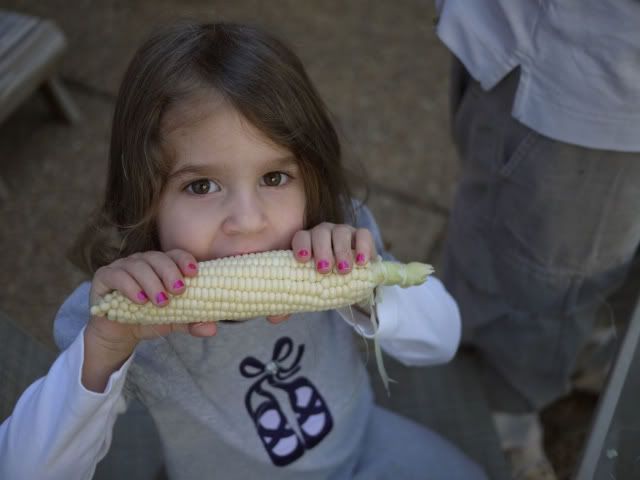 **
Tiny's a fan.
**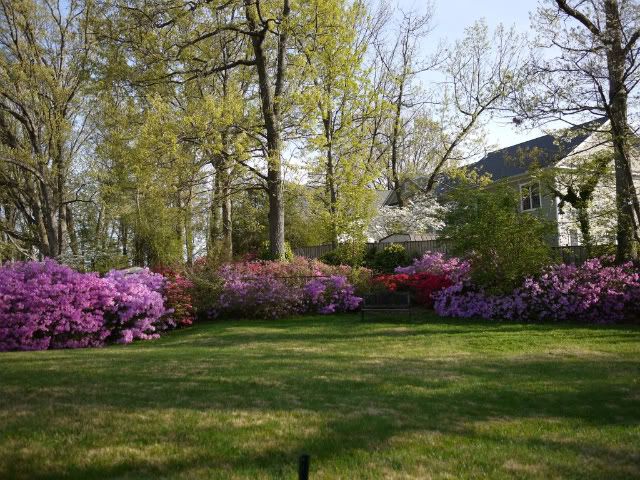 **
Doesn't my backyard look lined in cotton candy? We bought our house during Azalea season, and I'm wondering if we were unduly influenced by the spectacular scenery. ;)
**
**
We planted a garden! Rather, Rockstar and his father planted a garden. A squarefoot garden seemed like a good place to start. I really can't take an ounce of credit for it, but I'm happy about it.
**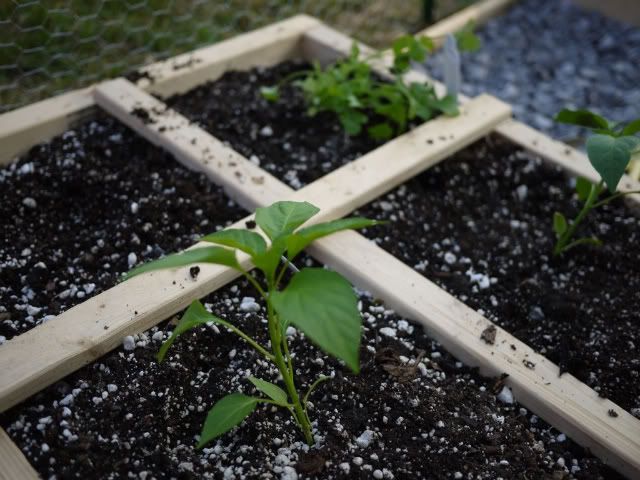 **
I got hooked on backissues of 'Birds & Blooms' when Tiny was a wee one, and I spent a lot of time in the pumping room at the Hospital. There was no other reading material, and suddenly I was coming home talking about bird species and soil pH. My short-lived fascination never amounted to anything, but now I'll finally get the chance to see if my thumb is green.
**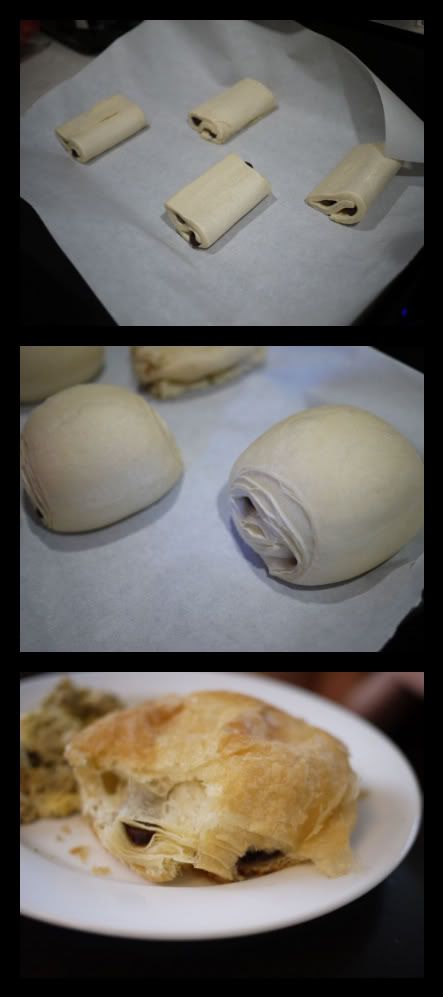 **
TJ's Chocolate Croissants!!! Do you have a Trader Joe's by you? If so, head directly to their frozen section, and buy these. You let them rise overnight (see above), then bake them into amazing deliciousness. They are, bar none, the best chocolate croissants I've ever had. They just might ease the Sunday night blues, you know...
**
**
Happy to find her basket--with a Jasmine costume inside! We bought it for Christmas, but decided to save it for when it would have more impact. A good decision, I think.
**
**
My little Buttercup.
**
**
Cute Mr. Drummer was good at wandering around the lawn with a basket in hand, less so at finding the eggs.
**
Here's to a lovely swim, er, week, and as many good things to enjoy!